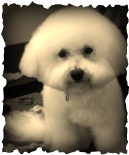 Welcome

Scissors and Suds was established in 1983. We have 2 San Antonio locations to serve you.

We pride ourselves on offering the best in grooming services for your pet. We strive to make the grooming experience a fun, happy, and relaxed one for your pet. Having highly skilled and talented groomers with decades of experience, you can be assured of your pets safety and comfort. We have been in both the world of show dogs and of pet grooming. We groom all breeds of dogs. All pets are groomed to the breed standard, or to your specifications. Often, this is determined by the lifestyle of the owner and the pet. We will consult with you on this.

We treat every pet as a special guest! We have successfully provided beautiful, personal styling and quality pet grooming with the emphasis on safe and gentle handling of pets, for nearly twenty five years. We pledge to make each visit a positive experience your pet will enjoy. Your pet will go home happy, clean, and "picture perfect".

We are highly recommended by area vets and many happy clients. We only use organic, natural shampoos and conditioners , always keeping in mind the type of coat and skin profile of your pet. Often we find things, in the course of grooming, which the owner may not be aware of and we will bring this to your attention.

We are located at: 1031 Patricia #112 San Antonio, Tx 78213 210-340-2294

7617 Tezel San Antonio, Tx 78250
210-647-7988

We accept checks and cash


---
History


Our groomers all have at least 20 + years experience. Most have more. We excel in scissor finishing your pet. We also have many years of experience in the conformation show ring . This makes for a very good "eye" in accomplishing an esthetically pleasing breed profile.

I began showing dogs in 1973. They were Wire Fox Terriers. Their grooming is a very tedious job, as the Terriers require hand stripping and the ability to sculpt the desired outline. I was mentored by Ric Cashoudian and Wood Wornall. Ric was a professional handler and judge..He was also an artist , who was commissioned to do a lifesized Bronze Bust of Barney (President Bush's Scottie). He also sculpted the memorial to Katrina victims in New Orleans. He was considered one of the "greats" in the dog world. He recently passed on.

I was very fortunate to learn from Ric and Woody, and this led to a good deal of success with my Wire Fox Terriers. I Had Best In Show and Group winning wires. From there, I became interested in pet grooming. We apply the show dog profile, only , we use pet grooming methods to achieve the same appearance. After showing Wires for 20 years, I began to show German Shorthair Pointers. I'm not currently showing, but am looking for a terrier to start again.

As time progressed, in recent years, Bichon Frises, Maltese, Malti-poos and other coated breeds became very popular, It wasn't very long 'til we started getting so many referrals for longer, fluffier, scissored styles that some days , we do 8 or 10 of them. I never intended to specialize in Bichons and very long scissored styling, it just seemed to work out that way. This type of styling does require expert scissoring skills , which seem to becoming a lost art, but is one that we enjoy doing.